Stainless Steel Jewelry China manufacture -Cold Jewellery
Stainless Steel Jewelry China manufacture -Cold Jewellery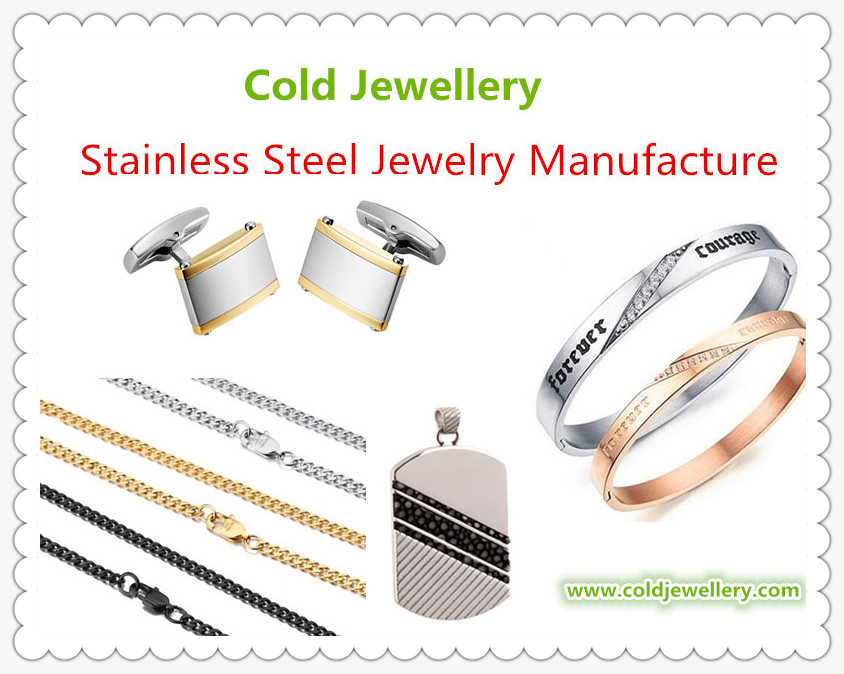 Cold Jewellery is a leading fashion, environmentally friendly and safe high-quality stainless steel jewelry China manufacture. All of our stainless steel jewelry is made by 316L stainless steel material, highly polish, by PVD plating color which guarantee 2 years will not fade color.



Cold Jewellery has formed a product design and

manufacturing, marketing, sales integration company. To coincide with the rise of stainless steel jewelry, we conveniently launched a range of stainless steel jewelry designs, gained a great success. Our main products is stainless steel cufflinks, stainless steel bracelets, stainless steel bangles, stainless steel necklace, stainless steel chains, stainless steel pendant, rings, stainless steel magnetic jewelry and stainless steel medical ID jewelry.
Below is some introduction of some of our products.

Stainless steel cufflinks
cufflinks is the indispensable accessories for men. On the kind of sense, cufflinks is identity, status, a symbol of taste.
Cold Jewellery is one of the top manufacturer which manufacture cufflinks and other man's accessories. We are committed to producing premium quality stainless steel Cufflinks and Men's Accessories that meet a high standard of handmade craftsmanship and customer satisfaction. We believe in "Dressing for Success"to bring beneficial effects to the wearers. We have over 50,000 designs cufflinks --Classical cufflinks, novelty cufflinks, vintage cuffinks, wedding cuffinks, function cufflinks...

Stainless steel bracelets

Stainless steel bracelet as a one of the popular and fashion jewelry, it has stylish styles, exquisite craft, competitive/ affordable price, accepted and like by more and more people.
Cold Jewellery have over 500 designs of stainless steel bracelet, for both men and women, also for kids. We also will launch new designs every season.

Stainless steel bangle
Stainless steel bangles is always a good choice with a simple and elegant outfit, brightening your look and amazing others at a glance.
A wide range of quality and well-priced competitive fashion bangles and enamel bangles are available at Cold Jewellery.

Stainless steel chain necklace

With the development of the times, the superb technology, stainless steel chain is more and more popular and liked by people.
Stainless steel chain and silver chain can be comparable, and the stainless steel chain have more advantageous than silver chain, it more durable and will never fade color, the most important factor is the price is more cheaper than silver.
Stainless steel magnetic jewelry
The power of a magnetic jewelry is undeniable. Research has shown that magnetic jewelry can improve circulation, reduce inflammation, and even help in the treatment of chronic pain. From those with arthritis to experienced athletes, the people who can benefit from the use of magnetic healing jewelry are many and varied.
Cold Jewellery have over 1000 designs of stainless steel magnetic jewelry.

Stainless steel medical ID jewelry
Cold Jewellery specilize in manufacturing and designing various kinds of stainless stel medical ID Jewelry --Medical ID bracelets, Medial Alert pendants.We have cooperated with many brand companies. Our ever-expanding line of medical ID bracelets, necklaces, anklets, charms, bag tags, and more is always on-trend, made to the highest quality, and guaranteed to meet your needs and expectations.

For stainless steel jewelry, Cold Jewellery is the best choice for you!